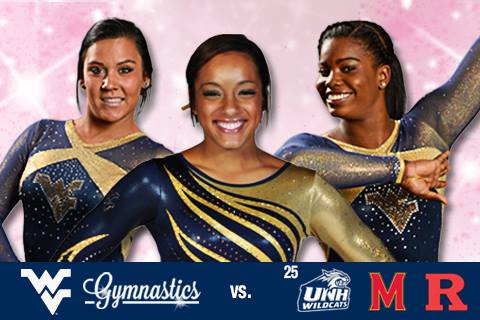 (Morgantown, WV)
1st Place                2nd Place                     3rd Place                        4th Place
---
Maryland- 195.35     West Virginia- 195.2      Rutgers- 194.825     New Hampshire- 194.1
Today at the Coliseum, the WVU Gymnastics team hosted the "Wendy M. Roach Invitational" Pink Meet to raise awareness for breast cancer. In the fourth rotation, a season-high score on the floor for WVU gave them the push to give them second place in this invitational. Some statistics from today includes: the win over #25 New Hampshire is the first of the season over a ranked opponent, and this is the 3rd 195+ scoring this season- the 1st at home.
Team Results
Vault
Bars
Beam
Floor
Total
West Virginia
48.95
48.725
48.3
49.225
195.2
Maryland
48.875
48.95
48.75
48.775
195.35
No. 25 New Hampshire
48.6
48.025
48.7
48.775
194.1
Rutgers
48.725
48.45
48.825
48.825
194.825
Match Statistics and Information Courtesy of wvusports.com.